FHS took third place tonight in the Lady Falcon Invitational Tournament. Paisley Smyth and Karly Combs were the FHS players named to the All-Tournament Team. Congratulations goes out to all of our Lady Falcons and their coaches.

Here is the bracket going into the final day of games on Friday, January 27th. Games start at 3 pm and the championship will begin close to 7:30 pm.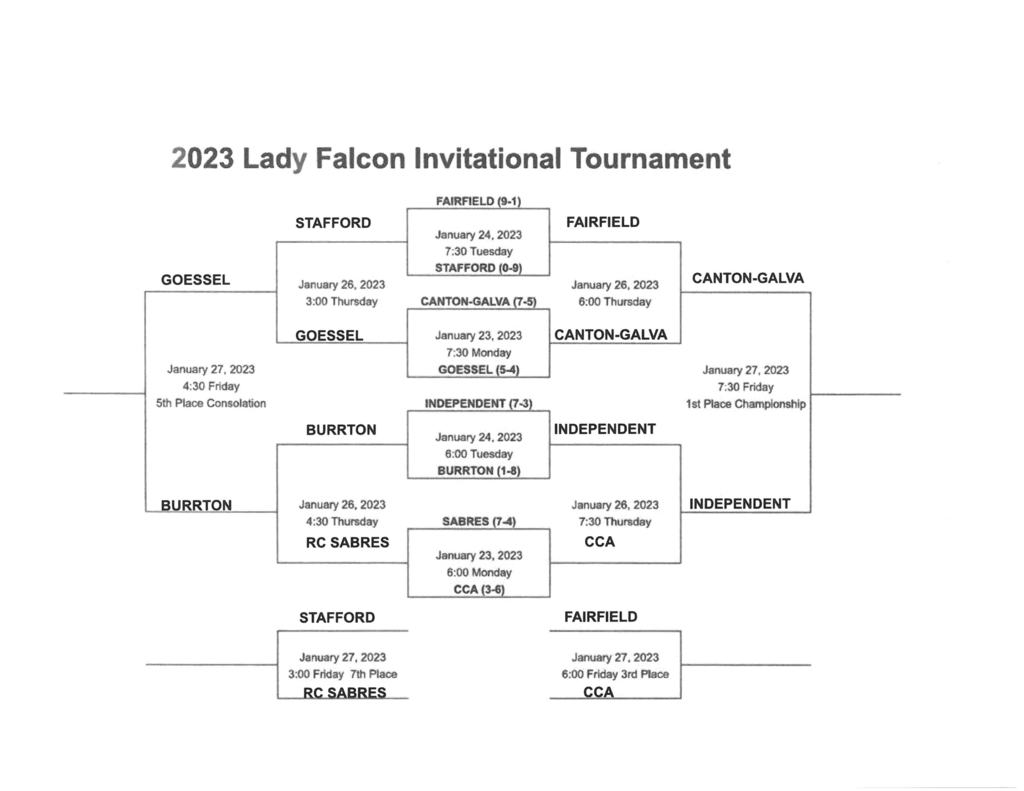 Independent won over Central Christian Academy 72 - 10 and will play Canton Galva in the championship at 7:30 tomorrow, Friday, January 27th.

FMS varsity boys 46 Stafford 5

Canton Galva won over Fairfield 56-43. Fairfield will play tomorrow at 6:00 pm for third place.

FMS Lady Falcons 16 Stafford 14

B team boys 22 Stafford 25

In tonight's Lady Falcon Invitational Tournament action, Goessel defeated Stafford 80-23. Then Burrton defeated the Reno County Sabres 38-36. These teams play tomorrow for 5th and 7th place. The Sabres and Stafford play at 3 pm, while Burrton and Goessel play at 4:30 pm. There are two more games left tonight, and check back later for results.

B team girls defeat Stafford 11-8

Congratulations to FHS senior Ashtin Cochran on being named the Bruce Lyman Most Inspirational Player at the Burrton Invitational.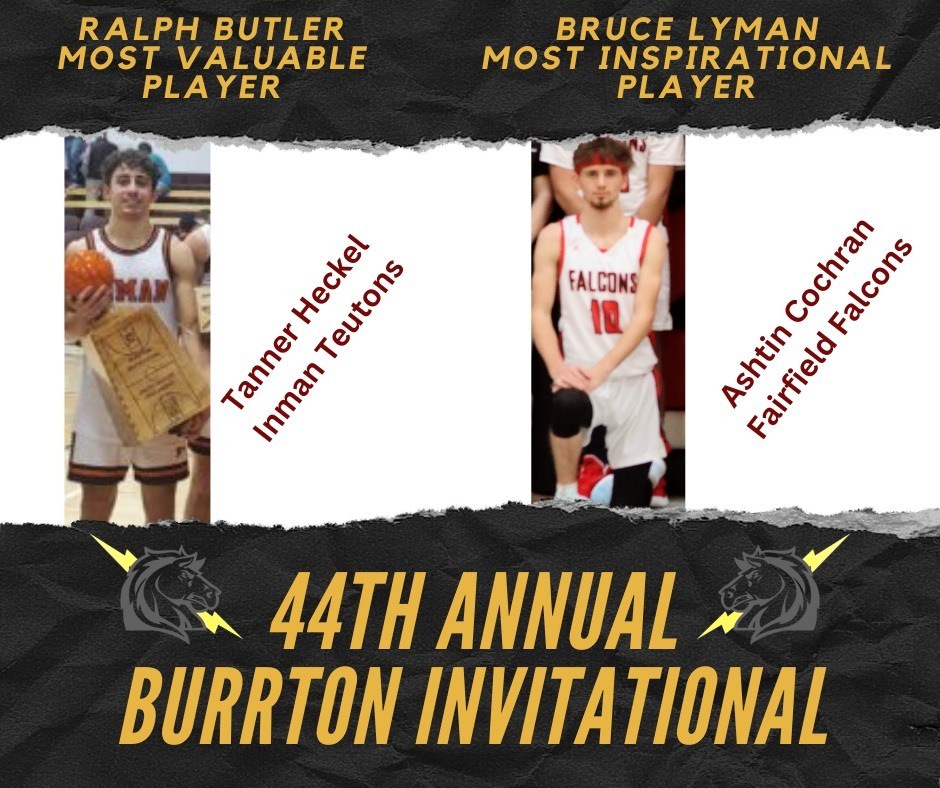 Congratulations to FHS junior Calen Wente on being named to the Burrton Invitational All-Tournament Team!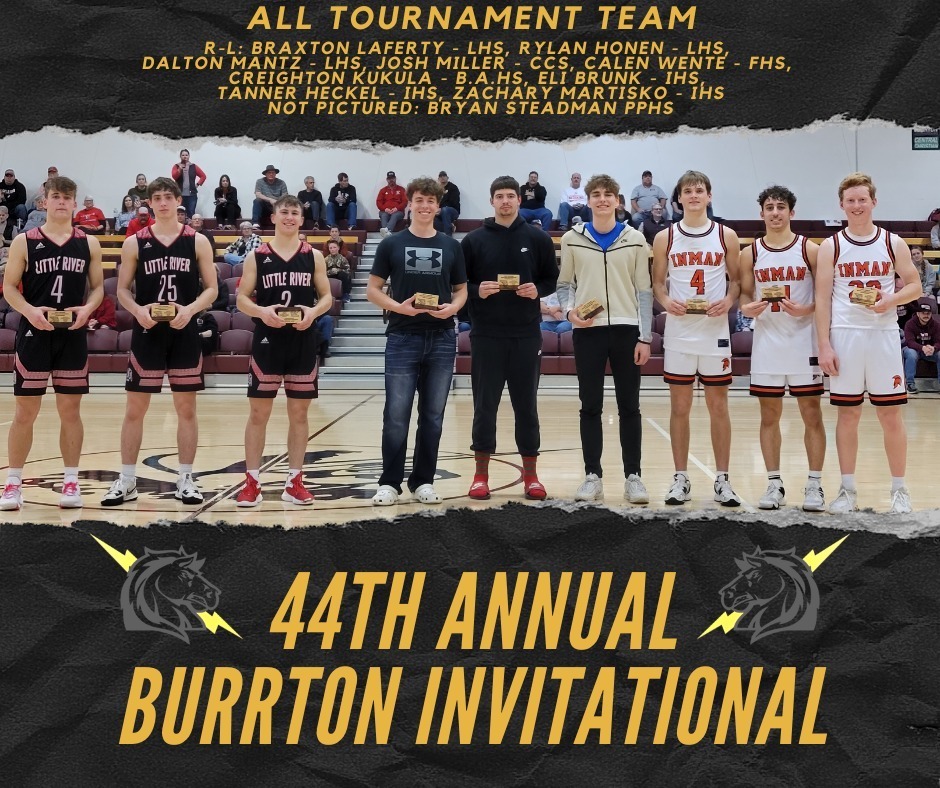 Little Falcon Cheer is coming in February. All forms and fees are due to the elementary office by tomorrow, Friday, January 27th, 2023. Remember that practice will be held on Thursday, 2/16 for the performance on 2/17. The note has more details that you may need to know. If you have questions, please contact Cassie Foster at
cfoster@usd310.org
, Kendra Nisly at
knisly@usd310.org
, or Megan Smyth at
msmyth@usd310.org
,

FMS basketball will host Norwich on Monday, January 30. Order of play will be: 3:00 ½ C Team Girls Game 3:30 ½ C Team Boys Game 4:00 B Team Girls Game 5:00 B Team Boys Game 6:00 A Team Girls Game 7:00 A Team Boys Game Parents' Night activities will be held between the varsity games.

FHS defeats Burrton 65-27

Here is an updated bracket for the Lady Falcon Invitational Tournament. Games begin at 3 pm tomorrow with Stafford taking on Goessel, followed by Burrton taking on the Reno County Sabres close to 4:30 pm. Fairfield will face Canton-Galva close to 6 pm and the final game of the evening will feature Central Christian Academy against Wichita Independent, starting around 7:30 pm if games stay on schedule. The final games will be held on Friday, January, 27th, starting at 3:00 pm with the game for 7th place.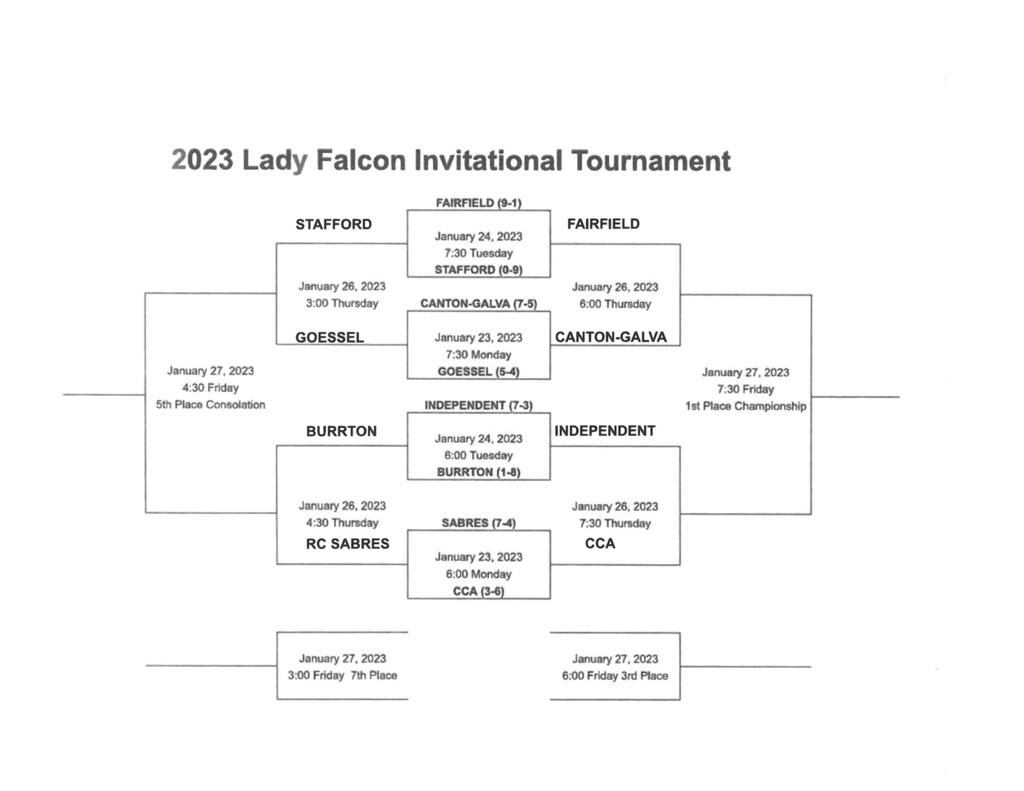 The FES Spelling Bees have been rescheduled for Wednesday, February 1st in the high school auditorium. The primary bee (K-2) will begin at 9:00 am and the intermediate bee (3-5) will begin at 10:00 am.

FHS had a surprise visitor yesterday to help get English-Language Arts motivated to start studying Agatha Christie's "Murder on the Orient Express." Actually it was their teacher Mr. Perkins in costume.

Today's elementary spelling bees will be rescheduled to a later date due to the delayed start of school. Sorry for any inconvenience.

Due to road conditions there will be a 2 hour delay today, Wednesday, January 25. There will be no votech bus and no breakfast will be served. The early childhood screening will still be held at 9:00 in the elementary.

Results from the second night of the Lady Falcon Invitational: Independent over Burrton and Fairfield defeated Stafford.