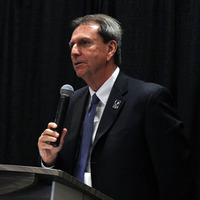 For the second year in a row, Fairfield USD #310 has captured the Commissioner's Award with Highest Distinction, the highest honor awarded by the Kansas State Department of Education. Fairfield was awarded this honor for its students' sustained Post Secondary success over a five year period, or in other words, the percentage of students who go on to finish some type of secondary training. It could be college or gaining certification in a technical field.
"Fairfield USD 310 Post Secondary Effectiveness was outperforming by two standard deviations, or about 25% higher, said Kansas Commissioner of Education Randy Watson to the USD #310 Board of Education on Tuesday, March 2, 2021. This award, calculated after the 2020 school year, is only being awarded to four districts across the entire state of Kansas. Dr. Watson also presented Fairfield with a Bronze Star Award for exceeding the state average in Post Secondary success. Also presenting the award was Kansas State Board of Education member Ben Jones of Sterling.
Based on each district's attendance rate, mobility of students, poverty level, and the number of years consistently in poverty, every district has its own established predicted rate of success. Scoring above that rate takes concentrated effort and attention to the needs of students. "Scoring two standard deviations above that rate is a really big deal," commented Commissioner Watson. "It means you are doing remarkably better than those risk factors would indicate," he said.
The Commissioner's Award of Highest Distinction represents a community-wide accomplishment. Superintendent Betsy McKinney said, "This has only been possible because of the combined efforts of families, students, teachers, school employees, and community members. We have all worked together to help our students achieve their post-secondary goals. Right at the heart of this is a dedicated staff who truly cares about our students." This award covers a five year period, so FHS graduates as far back as 2014 are included in the data.